Infineo, a pioneering recycling centre in France and Europe, enables PET to be recycled to create a closed loop, from "the bottle to the bottle", ensuring both the recyclability of food-grade materials and the production of new bottles in rPET (100% recycled PET bottle body).
A new 'ReSort' loop, involving €1.5 million of investment by Plastipak, is inaugurated on this occasion to strengthen the transition from a linear to a circular packaging economy.
A pioneering joint venture in France to accelerate the production of rPET
On 20 April 2023, CCEP France and Plastipak celebrated the 10th anniversary of the Infineo joint venture, a pioneering centre for the circular economy of packaging that received an investment of 8.7 million euros in 2013.
This investment added a PET pellet production line to the Plastipak plant, with a capacity of 20,000 tonnes, and created a circular economy visitor centre for the general public, welcoming 2,000 visitors per year. The plant is a leader in PET recycling in France, and can produce an average of 48,000 tonnes of recycled PET each year for CCEP and other beverage producers from the collected material.
1.5M of investments to reinforce recycling "from the bottle to the bottle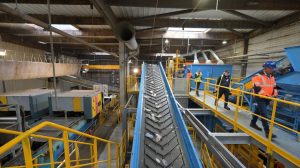 In order to increase the amount of recycled material and to further develop the French recycling excellence, the plant inaugurates a new "ReSort" loop for the bottles arriving at the site. This investment of more than 1.5 million euros by Plastipak will optimise the sorting process and enable an additional 2,000 tonnes of PET bottles to be recycled each year at the site.
Promote the transition from a linear to a circular economy
This joint venture illustrates Plastipak and CCEP's innovative vision of 10 years ago to move from a linear to a circular packaging economy, which is fundamental to reducing plastic pollution and achieving the industry's decarbonisation targets. This recycling centre is the only one in France to work on the entire recycling chain, from the collected bottles to the manufacture of recycled material and 100% recycled PET bottle bodies* for certain CCEP drinks.
For 10 years, CCEP has been committed to reducing the carbon footprint of its packaging through the development of a circular economy for its packaging. The company has already reduced its greenhouse gas (GHG) emissions by 30% over the last decade.
In December 2020, as part of its Climate Plan, CCEP set an absolute GHG reduction target of 30% across its value chain by 2030 (compared to 2019) and an ambition to contribute to the ambitious goal of being "Net Zero" by 2040, in line with a trajectory of limiting the global temperature increase to 1.5°C and the Paris Climate Agreements.
Strong ambitions for the years to come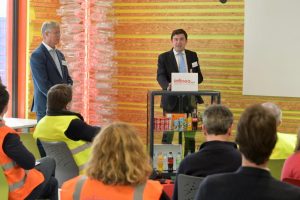 Today, thanks in particular to this partnership with Plastipak and to 10 years of innovation, CCEP France is accelerating the deployment of rPET: since April 2022, all 50cl PET bottles of the Coca-Cola brands with or without sugar, Sprite and Fanta are made from 100% recycled PET (rPET)*. They join Tropico, Smartwater, Powerade and Fuze Tea, which were already available in 40cl and 50cl sizes, made from 100% rPET.
This transition represents more than 200 million bottles per year, or the elimination of approximately 5,400 tonnes of virgin PET by 2023.
The goal by 2030 is to achieve 100% recycled PET in the entire "body" of the portfolio bottles, eliminating over 200,000 tonnes of virgin PET used per year in Europe. Using 100% recycled PET reduces the carbon footprint of each bottle by 70%, compared to using virgin PET from oil (source ADEME, 2017).
François Gay-Bellile, CEO of CCEP France, says:
« CCEP's investment in this plant was the result of a conviction: that of committing to the construction in France of a recycling sector of excellence. Ten years later, the Sainte-Marie-la- Blanche plant is an industrial flagship that is participating in the transition from a linear to a circular economy. We are determined to accelerate towards our ambition of making 100% of our range in recycled PET by 2030. The circular economy of packaging is indeed a key part of our strategy to help reduce our carbon footprint and also to fight plastic pollution.»
François Nicolas, Director of Operations for Plastipak France, says:
« Ten years ago, we could incorporate about 10% recycled material into the bottles we produced. Today, we are able to produce bottles from 100% recycled material. This is the result of 10 years of investment and innovation with our partner CCEP. Our plant contributes to a "bottle to bottle"

approach. By working in a closed loop, we produce higher quality recycled PET, which allows us to produce bottles that recycle, and which will in turn produce bottles that recycle»